The weather has been aweful these days! First it is sunny, then snowy, then rainy and windy. I had to check the calendar as it felt so much like April weather for a moment. This year really has started with some weird incidences and it is time to share those with you! It's Thursday and finally the rounds of Awkward and Awesome are back.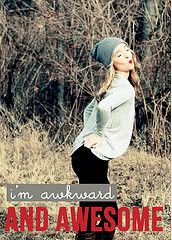 Awkward
Having your dad pulling a joke on you and you falling for it - my dad visited me unheralded and told me the city marshal is standing in front of the door. I actually started panicking and thinking which freaking bill I had forgotten to pay. The laughter was great when I found out who was behind all this. The almost-heart attack did feel bad for a moment though!

Having booked a spot at the local flea market and then having your name missing on the list - we wanted to sell a lot of stuff that has been collected over the last years during a flea market last weekend. I had booked a spot, got a verification, but when we arrived there with full cars, the organizers send us away as my name was missing on the reservation list. You can probably imagine our anger and unhappiness. They now have offered me a free stand at one of the next markets, but should I trust them? Apparently this happens all the time as they regularly overbook the place.

applying for jobs at your university and even for your own department - maybe becoming a colleague of your own old professors at some point!?
Awesome
Being booked as a photographer for several photo shootings in the next months. Maybe this could work as a career after all!

Planning a mini vacation for the carneval season :)

Receiving gifts even though it's not your B-Day anymore. My mom got me a super pretty ring during her short trip to Turkey and I just LOOOOOOVE the big bling! (Will show it to you all in one of my next outfit posts!)

Meeting an old friend that you had lost contact with several years ago.

Little by little finishing the apartment makeover. It really starts feeling like a cozy home.

Finishing this rainy day with a girl's evening - some friends will come over tonight for an arts and crafts evening!
What has been weird in your life these days?


Skirt: Heirloom by Grandma
Rain boots: Ernsting's Family