Friends, meet my favorite tree for photo shoots - tree, meet my friends!!This birch has been one amazing spot to take photos at. Sometimes we don't have so much time for outfit shootings and this spot is in our backyard, close by and sunny even in the late afternoons. If only the cars would not park around that area. Well, why would they, it's a parking lot!!
We had some beautiful days last week. Lots of sun and warm spring temperatures. I spent every day outside, only this sore throat has been detained me a bit.
Shirt & Bracelet: Gina Tricot
It's already Thursday again. The days have been gone in no time. Of course, it's time for some awkward and awesomeness!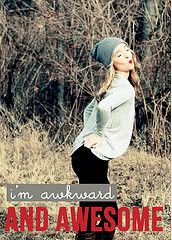 Waking up with a sore throat and running nose when a trip to the swimming hall was planned for that day

Meeting with a friend, preparing for outfit photos and when turning on the camera it says "No memory card" – well that one was still back at home

Mom had all our old home videos transferred to DVD and has been watching them every free minute – every time she calls at my place she tells me another embarrassing episode from the 90s. Over the weekend, I kept her company while watching and it was so weird to see myself as a 9 year old girl, with too long arms, legs and no coordination skills.

The photos in between poses :)
We found a new roomie for the flat and he will move in in two weeks – whoop whoop!

While watching above mentioned videos, I discovered a lot of styling input. First of all, most of the styles were really weird, freaky, but some things actually looked quite cool and surprise, surprise – while opening the new H&M catalogue, I found a couple of things that looked really similar to those outfits from the videos!

I swear I wore an almost exact replica of those pants in the 90s!
{

source

}
First rhubarb of the season – made some yummy desert out of it

Breakfast on the balcony - enjoying the sun with a cup of coffee and a croissant