You have already seen one photo from this session yesterday. I wore this 90s vintage dress inspired by my main Spring trend – floral print! I wrote a guest post about it yesterday. You can still check it out

here

!
I found the dress during the last thrifting weekend. It is pretty, but casual with the pockets and the fully buttoned front. It even looks a bit 50s inspired :) I combined it with my high red flower wedges, a belt and red lips. It doesn't take more than that!
Almost forgot what day is today! Of course, no Thursday would be complete – here they are: the Awkward and Awesome moments of my last week!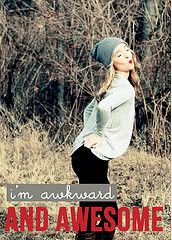 Wearing something appropriate but much too hot for a job interview – couldn't even take off the jacket, because I feared stains on the blouse. I made a good impression, but probably had a red face because of the heat (Awesome part – I still managed to stay professional and the boss seemed happy , let's see how it goes, fingers crossed!)

Getting and allergic reaction from wine – my favorite brand, until now :(

Wearing a bright blue skirt and everybody just stares at you – do I have something in my face?!

Extreme wind speed, heat waves and Marilyn Monroe moments – I had to change several times today, as no outfit worked with the unpredictable weather. Hopefully nobody saw me twice today!

Not enough sleep – put my juice in the coffee pot instead of milk this morning
Thrift finds from the second hand store and the flea market! My wardrobe is freshly filled with unique pieces!

Mom knows how to sew – she repaired my favorite skirt and two dresses and will maybe even show me how to use the sewing machine! I see all those cool DIY projects in the future!!

Taking the photos for my flatmate's job application

Amazing feedback for my "Shoe of the Week" project and people wanting to contribute to it