This week has been full of excitement and huge events. I can't give you updates on all of it yet, but let me tell you that my future seems a lot closer right now. I am currently applying to several positions that could lead to longterm employment after graduation this summer. Keep your fingers crossed for me as getting one of those positions would mean the world to me!
Those events called for celebrations and with the Tattoo convention still in mind, I felt very inspired to get my new sun umbrella out for a spin. It was a gift given to me by my best friend J. and her family. They had me and my photo shoots in mind and I am really thankful for it. Isn't it lovely!? You feel instantly transported to another time. Can't wait to use it for some projects.
Dress: H&M; gift by my sister
Umbrella: vintage; gifted
Tights: Esda
Necklace: gift by my host family
Earrings: Kitsch City; Tattoo convention
Ring: Moonstone; gift from my mom
It's once again the end of the week. With all those things going on, here a late version of the Awkward and Awesome things in my life!
running late and the moment you need to really leave the house or you will be totally late for a meeting - a heavy downpour starts the moment you set foot outside

going for a Friday swim - the indoor pool is almost empty and you bump into the only other person swimming there - where did I leave my glasses?!

wearing the same clothes as the day before and people (aka. my male flatmate) noticing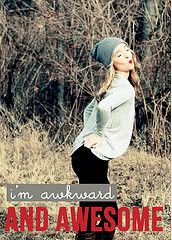 A tribute to the A&A founder

Sydney

– Congrats to our girl for going to be a mom soon!
Summer is here, with lots of sun and warm weather
Hearing the heart beat of your soon-to-be godchild for the first time -so exciting! 5 more weeks to go and can't wait!
Trying this super cute hairdo with maiden braids - thanks to

Tanya

(used the one for longer hair)
applying for jobs - the ending of studies seems so close now
TGIF