My day started with a temperature rise of more than 10 degrees compared to yesterday. Lovely weather, but I woke up with a bad headache. Still, I had a lovely breakfast with flatmate S. Afterwards I tried to distract her form packing so she could not leave town today, I failed :( For S.'s last day, we went to visit the industrial museum in town and saw the photography exhibition of Willy Maywald. He was an amazing Haute Couture photographer after the war and was the first to take couture pictures outside the studio.
I had a great time with the girls, laughing and taking photos. Back at home, S. finished packing and her leaving was indispensable. It's sad to see a good friend go, especially one you have spend so much time with over the last 2 years. Thanks S. for being such a great flatmate and an amazing friend as well, will miss you!!
Outfit Nr. 23 suits my current mood. I also tried a bit of pattern mixing. A striped shirt with a dotted cardigan. Actually the dots are sued-on pearls. I love the cardigan, as it enhances every outfit. With my nails, I even wore another pattern, cracked surface to be precise. I tried the new trend of colorful nails with a crackling top coat. What do you guys think?
What I wore
(apart from the 30x30 pieces, find these
here
)
Nail Polish: Nivea Beauté "Fuchsia Gloss" + P2 "Silver Blast" Crackling Top Coat
As it is Thursday, of course the day wouldn't be complete without the awkward and awesome list! Here it goes: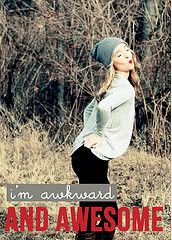 Two people are leaving my life for a while – A. is going to New Zealand for a semester and my lovely flatmate S. is going down south for a half-year internship

Painting your nails the day the dishes just can't wait any longer and have to be cleaned

Feeling warm in a skirt at minus 15, but freezing in pants at plus 4 degrees

Calling a person over and over again. That person never picks up. Sending an angry text message and later figuring out that you called the wrong person
Making lactose-free potato casserole and sharing it with the whole family

Having time to go to an art exhibition with friends in the middle of the week

Getting to know more about the history of your home town

Watching old classics on DVD – Marilyn and Audrey night

S. leaving me her favorite art work while she is gone, so I watch out for it until she comes back

Having time for friends and family

Lipstick – it brightens up every outfit à got 4 new ones on sale this week (it's make up, so it shouldn't count for the 30for30s, right?)

An unexpected massage from S.